Sometimes people ask about what's on the wall behind me when I'm presenting via my webcam. So, I thought I'd make a quick explanatory post.
Nailed to the wall of my computer alcove is a set of four aluminum plates which were used to print part of a book — specifically, the back side of signature 3 of the fourth volume of the Atlas of Design.
Now, if any of that didn't make sense, that's alright. I have them up there as a conversation piece, and when people used to visit my apartment (in The Before Time), I would use these plates as visual examples to offer an impromptu lesson on how books are made.
So, how were these plates used? Well, most color printing is done with only four colors of ink: cyan, magenta, yellow, and black (CMYK). By combining small dots of these inks in the right ratios, you can produce full-color images via a process called halftoning. Here's how it looks at the micro-level (taken from the linked Wikipedia article):
And here's how it looks at the macro-level, in which layers of varying amounts of cyan, magenta, yellow, and black make up the full-color image:
A book like the Atlas of Design is created using a method called offset printing. You can check Wikipedia for more details, but, the simplified version is: a big printing press will stamp each of those four colors of ink, one at a time, onto a sheet of paper. There are four CMYK inks, and I happen to have four plates. Each plate controlled the distribution of one color of ink when the book was being printed. Don't be fooled by the fact that they all have a blue color. That's just the color of a special coating on the aluminum, which controls what parts can pick up ink and what parts can't. If we zoom in, we can see that they're labeled, so that the press operator knows which part of the machine to load them into.
So why are these plates so big, when the Atlas of Design is a book that's only about 9 by 12 inches? If you look carefully, you'll see we're actually printing 8 pages of content at a time.
This makes book printing much more efficient. We print 8 pages on a single large piece of paper. And then, we flip that piece of paper over, and print 8 more pages on the back side. So, each piece of paper has 16 pages. That's for this particular book — if you have different page sizes or a different size piece of paper in the machine, the number of pages could easily be different for different books.
After it's printed, it gets folded and cut up into the individual pages, and then it gets sewn into the book — some other books use different types of bindings, but this is how it works for the Atlas of Design (which uses a Smyth-sewn binding). This group of 16 pages is called a signature, and if you look at the spine of the finished book, you can see how it's made of these blocks of pages, each of which started out as a single sheet of paper.
So, these particular plates also have a label indicating which part of the book they go to:
Sig: 3Back means that they're for the back side of the third signature. I picked this particular signature & side because it features a map that I made, which originally appeared in the Ecological Atlas of the Bering, Chukchi, and Beaufort Seas. The printing company was kind enough to offer me all the plates from the book (that would have been several dozen), but I figured that might be excessive.
When I worked as an editor on the first two volumes of the Atlas of Design, I learned how this method of printing/binding in signatures impacts the book's production cost. Since we were printing 16 pages per signature, it meant it would be best if our book length was a multiple of 16 pages. A 96-page book is printed from 6 sheets. So is a 94-page book, except parts of one sheet are just blank and eventually get discarded. But you still have to pay for them. So, the cost to print a 94-page book was basically the same as a 96-page book, since they used the same number of sheets. But if we went up to 98 pages, then we would need a 7th sheet (and the corresponding plates), and those extra two pages would suddenly add a lot to the cost.
Not all books work this way, of course; there are different printing sizes, and how the book is bound has an impact, too. This is all sort of simplified, but hopefully you may begin to get an idea of some of the interesting complexities. I really like these plates because they prompt all that thinking about the bookmaking process.
I also think it's fun to look at how the colors are built up from these four inks. Take, for example, Jonah Adkins's map of the One City Marathon. He has a bright magenta line running through a green background.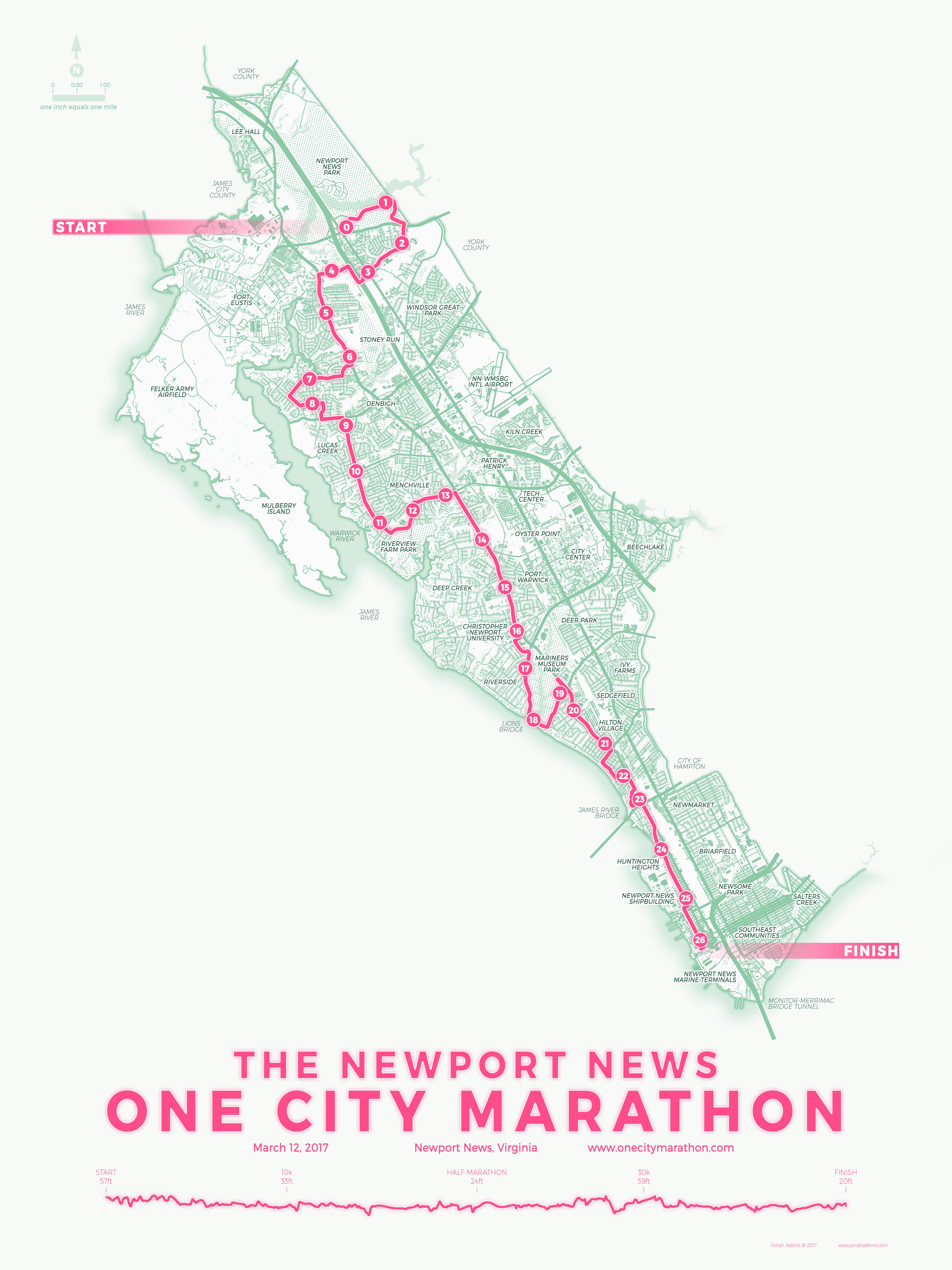 Now, have a look at the cyan and magenta plates that controlled how it was printed in the Atlas of Design (note that these plates only show part of the map; the rest of the map was printed on a different sheet of paper):
On the cyan plate (which, along with yellow, will create a green background), there's a hole for where the magenta line will go. On the magenta plate, most of the background is absent, leaving just the route line.
These plates are full of all kinds of these fun details, where you can see the artwork being built up piece by piece. Even now I still stop to look at them every once in a while.
So, that's what's behind me when you see me on the internet. You'll mostly just see pieces of the cyan and yellow plates, but there's a lot more neat stuff going on, all of which was needed to print just one part of just one book.